By Waldo L. Jaquith
5/22/01

For a few years now, teenaged musician Devon Sproule (most commonly known as, simply, "devon") has been Charlottesville's Chosen One, rumored to have been blessed by Dave Matthews himself as The Next Big Thing.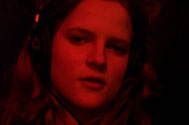 Devon's premiere album is startlingly excellent.

One day she was playing on the Downtown Mall, guitar case open, playing Ani Difranco covers and a few of her originals. The next, Dave Matthews Band soundman Henry Luniewski was mixing sound for her and Stefan Lessard's sister-in-law, Jess Baucom, was managing her. A few months later, her first album, eponymously titled, appeared in local record stores and was met with much good press and buzz around Charlottesville.

The disc featured DMB's bassist, Stefan Lessard, and was produced and mixed by John Alagia and Jeff Juliano, both of whom have worked extensively with Dave Matthews Band. It was a sure thing.

Then came the touring. Around C'ville, little was heard about devon for many months. What had happened? Where was the rising star?

Come to find out, she was hard at work. After countless gigs along the east coast, devon created enough songs to record her second album, "Long Sleeve Story." Beginning in January, she had been slaving away in recording paradise: Dave Matthews Band's Virginia studio.

. . .

Evening has fallen. I'm driving down a bumpy gravel road off Albemarle County's Route 20, about 15 minutes outside of Charlottesville. Jess and devon are leading, in the Subaru in front of me, and each turn leads us onto smaller and dustier roads. I have no idea how I'll ever find my way back home. Finally, we stop, and I realize that we've arrived at the mythical Dave Matthews Band studio. I pull myself out of my Volvo, remembering to grab the bottle of red wine that I brought for my hosts, and look around.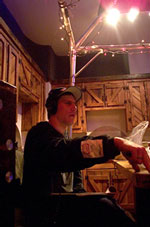 Stefan Lessard is working hands-on with a little-known artist.

This studio looks a lot like a house. In fact, it is a house. A really huge one. devon gives me the grand tour. The rambling structure is almost entirely empty, save for the rooms that Stefan and Jess have claimed for themselves. Just when I realize that I'm lost, we head back down a back staircase and find ourselves in the studio.

At the far end of the long room is a tremendous assortment of instruments: a dozen guitars, as many basses, Carter Beauford's drum set, several keyboards and, oddly, a couple of turntables. Immediately in front of me is the recording equipment. There are thousands of blinking lights, hundreds of knobs and levers, and dozens of threatening-looking electronic boxes.

Atop the whole assembly is a tent that consists of a metal framework draped with the elephant backdrop used behind the stage at DMB concerts during their 1995 tour. Incongruously, a glass chandelier hangs from the tent framework. Various decorations adorn the equipment: a stuffed marmoset, Big Bird dolls, a blowfish, huge lava lamps, half a dozen plastic lizards. Children's playthings among sophisticated electronics. I can't escape the feeling that I'm among a bunch of kids that have stumbled across some incredible toys.
---
Text ©2001, nancies.org. Photos by devon.